*CONTEST IS NOW CLOSED*

Those of you who know me at all know that I love photos, and I particularly love the stories that go along with them. My family photos and their stories were some of the primary reasons why I started my family blog.
I met Tara at Cherish Bound over a month ago when I entered and won one of her Story Starters. Since then, I have gotten to know her as a wonderful friend and I've learned about her amazing company! Keep reading for a chance to win an amazing giveaway from Cherish Bound....but first, What is Cherish Bound?

Cherish Bound is so much more than a photo book! You can create books to find, capture and share the stories of your life... As a blogger, I have endless stories and Cherish Bound is a perfect place to publish them and save forever in a physical form.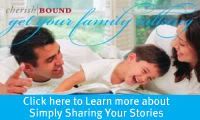 You can do so much with Cherish Bound...create books, enjoy amazing products to help you organize your stories....they even have an opportunity for you to make money from home. Tara tells me that they are ramping up for some big things this summer and are looking for fun people to join the Cherish Bound family. You can be a part of the movement they're creating with some great specials and deals going on right now. And who couldn't use a little extra money these days - especially doing something we already all love!

With Cherish Bound you can...

Capture your Story. Using their online publishing tool, you will upload your story text, photos, and scanned images into a book template of your choice. With their ever-growing selection of colors, borders, and fonts, finding the right format for your story is easy. The tool is web-based so you don't have any software to download or update – all of that is done for you!

Submit your Story. With your book completed you are ready to submit your project to Cherish Bound online. All you do is press the submit button and they take it from there. Your book will be printed and bound using cutting-edge, archival processes and materials. You can order as many copies as you like, whenever you want. Your finished book is digitally stored in their archives indefinitely.


Share your Story. Your completed book will arrive by carrier in approximately 15 business days from date of submission so that you can begin the tradition of sharing story in your family.

Teach others about the Story. Cherish Bound is growing. Kind of an "odd" thing to hear given the circumstances of our economy and how this little world of ours is turning. Tara said, "It doesn't surprise me. Many people are finding comfort and joy in our products, the stories that are being shared between family members and friendships that are being created between consultants and customers. It's a beautiful thing..."

To help you get started with sharing your stories, Tara is giving away a Cherish Bound Story Starter and Publishing Account for one lucky person! She's also including a $29 credit towards publishing your creation!! All you have to do is leave a comment on which of your stories you would love capture and share. If you'd like to contact Tara and receive some more information about Cherish Bound go to www.findcaptureandshare.com and fill out a request for information. (top left in red - says "register")
So, to make it easy, Here's what you need to do:
1st entry--Leave a comment here and mention which story you would like to preserve. Would you tell about your child's birth, or first day of school? Maybe you would like to do a recap or your family's year, or remember your wedding day? Anything goes!
Extra entries-- For EACH entry, please leave a separate comment.
~Tweet about this
~Stumble or Kirsty this giveaway post (or ANY post on my home blog that you find worthy!) Leave me your stumble or kirtsy name if you do.

~Follow me here or on my home blog

~Grab my button and post it on your blog

~Blog about this contest, linking back to me and Cherish Bound (www.findcaptureandshare.com)--*This is worth 3 entries!*
This giveaway closes on Friday, February 20 at midnight Eastern Time. Open to US residents only. Please leave your email if you don't have it on your profile. (You can also e-mail me your e-mail address if you'd rather not post it) Winner will be announced on Saturday, February 21 by email (winner will have 48 hours to respond to me with their mailing address or a new winner will be chosen).


* CONTEST IS NOW CLOSED *